Sometimes, you just need to get away, even when all you can afford is the airfare, room and board. Luckily, I've got you covered.
There are two main cities you can go to access plenty of free activities and sites, most of them off the beaten path of your typical tourist traps. Lima, aside from the typical, has numerous curious places to visit and things to see that will give you a taste of the more modern, or a modern take on the ancient. Cusco is a more historical city, with tons of Inca ruins and structures repurposed for modern uses. In addition, both cities are the gateway to a number of natural sites that are free to enter and not particularly difficult or expensive to get to.
Lima
Lima, the current capital of Peru, has a relatively young but interesting history. Aside from the historically significant sites, there's parks all over the city worth visiting. What's more, both in and out of the city are sites that display the natural beauty of Peru. Also, check out this article I wrote about the beaches near Lima.
Francisco Pizarro Statue
This may seem like an odd thing to check out, but it's definitely worth it. Highly contentious among Peruvians, it's a statue of the Spanish conquistador who founded the city of Lima and claimed Peru as a colony for Spain. Originally built in 1935 in the Plaza Major. If you wish to find it today, enter the Parque de la Muralla and walk over the bridge, and it will be on the left below the bridge, shrouded with shrubs and trees.
Malecón de Miraflores
If a statue hidden in the park isn't your style, check out the Malecon de Miraflores, a nice boardwalk with plenty of gardens, benches, cafes, a lighthouse and a beautiful cliff-top portion overlooking the pacific.
Parque Kennedy
Named for John F. Kennedy, the reason to visit this park has little to do with its namesake. Instead, you'll want to stop by for your daily dose of cute cats, as this park has become famous for its population of friendly, fluffy cats.
The room of 10,000 ancient skulls
Ok, so you don't actually get to go into *the* room with 10,000 ancient skulls, but the site itself has an exhibit where they show off 8 of their weirdest skulls, some dating back to 12,000 years ago. If you like anthropology or just like seeing weird-looking skulls, this is worth checking out.
Casa de la Literatura Peruana
Originally a large European style train station, it was repurposed in 2009 as a space to show off literature, sculpture and other forms of artwork.
Museo de Congreso y la Inquisición
This is definitely a weird one. Originally a courthouse of sorts, they also unexpectedly performed Inquisitions like in Spain. Nowadays, you can head down into the old dungeons and watch them re-enact some of the torture methods on dummies.
Bosque el Olivar
Also known as the Olive Grove Forest, it was originally planted with trees brought over from Spain. Now it 44 species of trees, a nice pond, a leisurely walking path and plenty of benches to soak in the atmosphere created by the more than 1500 olive trees.
Huayllay National Sanctuary
For a break from the city, if you head north of the city to see what the ocean floor looks like when you lift it up out of the ocean and expose it to glaciers, wind, and rain. The "forest" of stone pillars are certainly a sight to behold.
Parque del Amor
The name says it all. A park dedicated to love. At its center, there is a massive statue of two lovers kissing, and it's surrounded with pillars etched with various romantic quotes.
Cusco
Cusco, the capital of the Incan empire, has tons of fascinating history to see, and is a gateway to tons of adventures to be had in nature. Check out the post I wrote about it here.

Cuncho macaw clay lick
In the Tambopata National Reserve, northwest of Cusco, is an unusual wall of clay that was exposed by erosion from the river. Macaws, as well as numerous other colorful birds, flock here to eat small amounts of clay, likely as a natural mineral supplement.
Rodadero slides
Apparently people have always loved going down slides. Despite Rodadero actually being an Incan military installation, these slides, which undulate like something out of a modern water park, are well worn and both children and adults alike can enjoy these ancient stone rides.
Cotahuasi Canyon
At double the depth of the grand canyon, Cotahuasi is one of the deepest canyons on earth. To the south of Cusco, it's dotted with the occasional Inca and pre-Inca ruins, and if you're lucky you might see one of the protected Andean Condors, for which this national park acts as a preserve. Plus, before you make your way down into the canyon you can camp just about anywhere in the town of Cotahuasi, so long as you ask for permission from the landowners first. (Don't forget to check the weather before going).
Salt pans of Maras
These ancient evaporation pools were first made back in the 1400s by the Incas to evaporate saltwater to get salt, and they still use it in that capacity to this day. The saltwater doesn't come from the ocean, but a natural spring that supplies them with a steady stream of salt-rich water.
Sacsayhuaman
This three-tiered marvel of Incan engineering can be found just north of the Historic Center of Cusco. It contains some of the largest blocks out of any Inca-made structure that survives to this date, and has stones cut so precisely that it leaves no visible gap in between, and has these oddly shaped stones fit together perfectly to make solid walls that have stood the test of time.
12-angled stone
Another example of incredible Incan architectural engineering, this 12-sided stone was precisely cut and set into a wall centuries ago. The structure was so sound that it was repurposed, and serves as the wall for the Archbishop's Palace until today.
Qenqo temple
Carved from a single massive stone outcropping. Though the use is a mystery, it's clear it once served some complex and ritualistic purposes, though exactly what that was has been lost to the ages, though researchers speculate that it may have been used to judge the dead, as it has a series of canals through which some kind of fluid flowed, as well as 19 seats around it to observe.
Moray, the Incan agricultural lab
This series of concentric depressions was a mystery, until they analyzed it from an agricultural perspective. They found that the temperature difference between the lowest and highest terraces was a high as 15 degrees celsius, with each ring having soil that seems to have been imported from other regions in the Incan empire.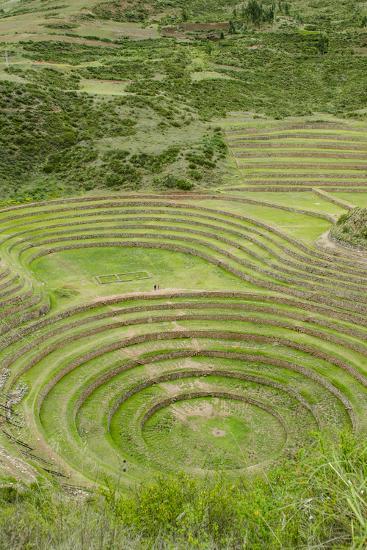 Q'eswachaka, the woven Inca bridge
The last of the woven Inca bridges, Q'eswachaka carries on an ancient legacy. About 100 meters off of the main road parallel to the modern bridge, it has been removed, replaced and blessed again using historical Inca methods, rituals and materials once per year to maintain the tradition. When leaving Sicuani, follow the signs towards Arequipa, then continue to Quehue, then continue through Quehue to the west. As you come to the steel bridge over the Apurimac river, there are walkways on either side of the river that leads down to Q'eswachaka.
Pucallpa
If Lima and Cusco aren't cutting it for you, you could always check out Pucallpa. Hidden away in the Peruvian Amazon, this small city has two main attractions. If the rest of this list just wasn't unusual enough for you, these two most definitely will be.
The boiling river
Southeast of Pucallpa is an unusual geological phenomenon. The river, which is supplied by volcanic vents, is almost literally boiling, the turquoise stream ranges from 120 to 200 degrees Fahrenheit. Called Shanay-timpishka by the locals, its name means "boiling with the heat of the sun", and was heated by a giant serpent named Yacumama ("Mother of waters"). 
Usko Ayar art school
Founded by shaman and painter Pablo Amaringo in 1988, the school was founded to provide Peruvian youths the opportunity to develop their artistic talent when previously they could not. However, Amaringo is most famous for his work with Ayahuasca, a powerful hallucinogen native to Peru, which he used to induce religious experiences to inspire his artwork.
Before we finish, I want to point out that if you really need money, the possibility always exists of finding legal work in Peru. Here's a guide about how to get your working visa, and here's the ultimate guide with everything you should know about Peru.