In the case of a patrol car immediately recommend that you record the registration number of the vehicle
Lock all doors and only partially open the driver's window so you can give the vehicle documents and driver's license should it be required.
Before handing anything over, demand to see his identification as a member of the Police Force and badge (ID must be on the chest), you should demand the alleged police documents. Also, note the time of the arrest. Be very firm, do not be intimidated
Don't leave the vehicle open the door to the police.
If there is a warrant for the vehicle, tell him the vehicle will be taken to the nearest police station, but by the owner. Never, for any reason, give your vehicle to the police.
NEVER allow a search of the vehicle (open the trunk or similar act), or give your keys so they can search themselves. To be able to do this the police must show you a warrant issued by a judge. Your car is private property and no one has the right to enter or search it. If you allow police to check the trunk they can easily "find" drugs, weapons or other incriminating evidence. Unfortunately, bad elements are known to exist in the police force here.
Drive your car to the police station and turn off the vehicle. Do not hand over the keys to the police under any circumstance, even if asked or told you're "required" to. Strongly request the presence of a prosecutor.
Demand the use of a telephone to call your family. They are obliged to do this.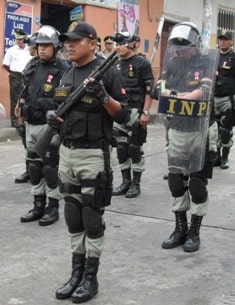 WHAT YOU SHOULD NOT ALLOW IN ANY WAY
1 The police cannot arrest anyone if it's not a flagrant act. (I assume this means of a very serious nature)..
2 If you have not committed a crime and your documentation is in order, a police officer needs an arrest warrant and a search warrant (both, not just one) to search a vehicle.
3 You have the right to ask for a lawyer and the police need the physical presence of a prosecutor to do any kind of intervention on a vehicle.
4 The police are under absolute obligation to show identification.
5 If the police plants drugs and / or other substances, weapons, etc. they are committing a serious offense.
6 If you are told that you have to go to the police station you should go to the nearest one. They cannot make you go to their own station or one of their choosing.
IF YOU'RE DRIVING IN PERU, KEEP A COPY OF THIS IN YOUR CAR, FOR YOUR PEACE AND SECURITY.